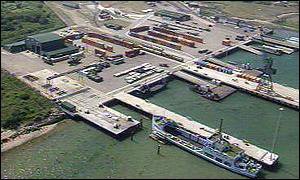 Marchwood
Latitude: 50º 52'N
Longitude: 01º 24'W
Country: England
Ownership: HM Government
Type: Private
Address: Sea Mounting Centre, Marchwood, Southampton, Hants, SO40 4ZG
Telephone no: 02380 664455
Website: www.theyworkforyou.com/wm...12a.41WS.0

About Marchwood
In 1943 the little-known port of Marchwood was born on the far side of Southampton Water, its purpose to ferry equipment and men to the Normandy beaches the following year. With the coming of peace in 1945 a continuing military presence at Marchwood was needed to support the Army overseas.
The port came into its own once more in 1982, when Argentina invaded the Falkland Islands. Once again the job of loading all the equipment the troops would need for the fight ahead took place largely unnoticed at Marchwood. It was so important to the war in the South Atlantic that the government upgraded the base after the conflict.
The Sea Mounting Centre (SMC) as the port is known is situated on 289 acres of land on the western side of Southampton Water, opposite Southampton Docks. The port is operated by the Ministry of Defence and provides a base for 17 Port and Maritime Regiment RLC whose role is to load and discharge service or civilian shipping in support of military administration, exercises and operations world wide.
The site is the sole military port in U.K. and provides the training ground for Army port and maritime personnel.
The port consists of three main jetties. The largest (Falkland Jetty) is 169m long from the Ro/Ro Link Span pontoon and 33m wide, it has had two dolphin extensions added and is capable of accepting vessels up to 203m LOA and 25,000 tonnes displacement. It has a sophisticated Ro/Ro Link Span Pontoon facility capable of handling vessels with various ramp configurations. The Linkspan is 100t class and the pontoons can be ballasted to a freeboard between 1-3m. The jetty also has two 32 tonne Quayside Cranes with Rotating Hook and Semi Automated Container Frames, and railway access. Both Berths (3 and 4) on this Jetty are maintained at a depth of 8+m above LW.
The second jetty (Mulberry Jetty), built during World War II, is 115 long from the Ro/Ro pontoon, has rail access, has had a Dolphin extension and is capable of accepting vessels of up to 125m LOA and 8,000 tonnes displacement with limited Ro/Ro facilities. Both berths (1 and 2) on this Jetty are maintained at a depth of 4+m above LW.
Finally there is a subsidiary jetty (Gunwharf Jetty) of 116m that is used to berth military landing craft and smaller vessels. This Jetty is maintained at 4+m on Berth 5 and 3+m on Berth 6. Adjacent to Gunwharf is a minor ship repair facility equipped with a 225t boatlift.
Excellent ties have been forged with the local community during the 60+ years the site has been occupied by the military. Formal civic links have been made with an Affiliation to the New Forest District Council.
---
Return to Area Map