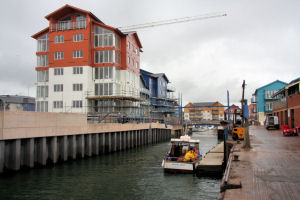 Image ©
Bob Jones
Exmouth
Latitude: 50º 36'N
Longitude: 03º 24'W
Country: England
Ownership: Exmouth Marina Ltd (formerly Exmouth Docks Company)
Type: Private
Usage: Leisure, Fishing
Contact name: Keith Graham, Dock Master
Address: The Dock Office, Exmouth, EX8 1DU
Telephone no: 01395 269314
Website: www.exmouthmarina.co.uk/

About Exmouth
With its foundations in Roman times Exmouth has grown from a fishing village through being an important port in the 1100s to a busy tourist town.
Sir Walter Raleigh sailed on many of his voyages from Exmouth harbour and Lord Nelson's wife lived in the town.
In December 1989 Exmouth Docks Company closed the docks to commercial traffic. It is now a marina but still has provision (in law) for commercial vessels to tie up on the pierhead. Pleasure cruises also operate from the docks, for dolphin watching and fossil-hunting along the coast. The passenger ferry to Starcross on the opposite side of the estuary operates from the pierhead.
---
Return to Area Map