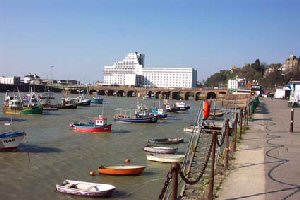 Image ©
Bob Jones
Folkestone
Latitude: 51° 05'N
Longitude: 01° 13'E
Country: England
Ownership: Mr Roger De Haan (Saga Group)
Type: Private
Usage: Leisure, Fishing, Commercial
Contact name: Mr Glyn Richmond, Harbour Master & Port Manager
Telephone no: 01303 254597
E-mail: harbourmaster@folkestoneharbour.com
Website: www.folkestoneharbour.com.../home.html

About Folkestone
Folkestone prospered as a fishing village supplying an important food source during the reign to King Stephen (1135 -1154). In 1299 the town was expected to provide seven boats, each crewed by twenty men and one boy to the King's navy. It is doubtful that more than one boat was ever supplied at a time. Part of the defensive preparations included plans for a port at Folkestone. However, nothing ever came of the proposal.
Smuggling grew to dominate local economy through the 1700's and well into the 1800's. This initially involved the illicit export of wool and the import of contraband goods such as spirits, tea, tobacco, silk and lace.
During the 1800's major changes occurred to Folkestone as the sea front underwent developments to enable it to become a viable harbour. Over the previous centuries it had been subject to frequent serious storm damage and sea encroachment. Jetties were destroyed and the cumulating of shingle made it difficult to beach fishing boats. In 1807 an Act of Parliament was passed to enable the construction of a pier and harbour at Folkestone. By 1820 a harbour area of 14 acres had been enclosed. This initial harbour development was not very successful. Sand and silt continued to be deposited in the harbour by high tides and the effect was to choke the harbour. The Folkestone Harbour Company invested heavily in removing the silt but with little success. In 1842 the company went bankrupt and the Government put the harbour up for sale. It was bought by the South Eastern Railway Company, which was then building the London to Dover railway line. With the railway came the collier boats bringing coal from the north. Also with the railway came the beginning of the cross channel steamship service and Folkestone entered a boom time of development and prosperity.
The harbour is divided into two parts, the outer & inner harbours. The outer harbour is a former ferry terminal, now used for general cargo handling; the inner harbour is tidal and has buoys for small boats.
A range of services are available, including Ro/Ro facilities and hazardous handling. Cargo vessels up to 130 metres in length with a beam of 22 metres, draught of 5 metres and a maximum dead weight of 2000 tonnes can be accommodated. A heavy lift quay is available for cargoes up to 500 tonnes.
A small fishing fleet operates from the port, which is also popular for leisure activities.
The port (Folkestone Properties Ltd) was sold in August 2004 by Sea Containers Ltd to Roger de Haan, former Chairman of the Saga Group.
---
Return to Area Map