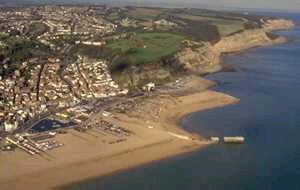 Image ©
Bob Jones
Hastings
Latitude: 50° 51'N
Longitude: 00° 36'E
Country: England
About Hastings
Once the head of The Cinque Ports, the harbour disappeared in the great storm of 1287, but despite this Hastings still supports the largest fleet of beach-launched fishing boats in Britain. They make a colourful sight drawn up on beach at the bottom of East Hill when not in use. In the 1850s there were 85 or so fishing boats registered here; now there are some 20 or 30 with the RX registration mark. Nearby, the 8-foot (2.4 metres) square, three storey high, wooden Tudor net lofts were once used to dry the 30 or 40-yard (27 or 37 metre) long herring and mackerel nets.
Throughout the history of Hastings, attempts have been made to build a satisfactory harbour. Repeatedly, the exposed shores and rough seas have succeeded in destroying the builders' endeavours. The remains of a harbour that was possibly Elizabethan were discovered in 1807. There may well have been a Roman harbour but there is no archaeological evidence of this. Not only climate but also cash has brought about the failure of harbour construction. It was certainly cash that played the major part in the final, failed attempt, the remains of which are seen today.
In 1889 a committee met to discuss a councillor's plan to build a £60,000 harbour scheme. It was explained that the cost of goods and coal would be substantially reduced and that the fishing fleet would find a save haven. The scheme was started in 1896 and was to cost not sixty but £200,000. Bonds for the harbour were issued, and though only £118,400 worth had been sold, slightly more than half the sum needed, the Harbour Commissioner started the construction..
A mud-filled riverbed of the past was found where the harbour end is now. Up to that point the seabed had been sandstone or dense gravel. This final problem exhausted the last of the inadequate finance and work stopped on the harbour construction. The Council was asked to support the scheme and polled the ratepayers in the town. The vote was favourable and the Council asked structural engineers to survey the structure. The report was damning, saying that the harbour arm was insubstantial and the footings insufficient. The plan was abandoned in 1902 with the contractors' materials being left on the site.
A hundred years later, despite the pounding of the sea, the harbour arm is still with us. It has enabled the fishing fleet to gain protection and built up large areas of beach for tourist use. Today the harbour arm stands as the town's failure over 600 years to provide a lasting artificial anchorage. There are planning proposals to enhance the harbour with an emphasis on improved maritime activities.
---
Return to Former Harbours Map