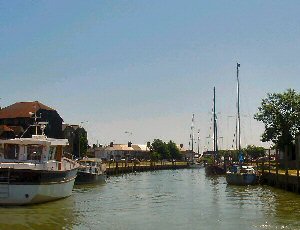 Image ©
The Environment Agency
Rye
Latitude: 50° 56'N
Longitude: 00° 46'E
Country: England
Ownership: The Environment Agency
Type: Private
Usage: Leisure, Fishing
Contact name: Capt Carl Bagwell, Harbour Master
Address: Harbour Office, New Lydd Road, Camber, East Sussex, TN31 7QS
Telephone no: 01797 225225
E-mail: rye.harbour@environment-agency.gov.uk
Website: www.environment-agency.go...31591.aspx

About Rye
For centuries the little town of Rye, perched upon a sandstone hill at the estuary of the river Rother has watched over the Romney Marches, guarding the coast from foreign invasion.
Rye was reclaimed by Henry III in 1247 in exchange for other lands. The town then entered the confederacy of the Cinque Ports becoming a full Head Port in the 14th century. Duties involved supplying the King with ships and seamen in defence of the realm in return for freedom from taxation, and self-government.
13th century storms had changed the shoreline to form a large, safe harbour which encouraged a great increase in shipping. Today trawlers still line the fishermen's quay, while boats from around the world shelter in the yacht basin, where the
Rye Harbour Sailing Club
is based.
Today, Rye is owned and managed by the Environment Agency, which is also the Harbour Authority. The Harbour employs a Harbour Master and Deputy who offer all mariners a warm welcome and every assistance during their time in this historic port. The Port of Rye dries completely and vessels should not approach the port more than two hours before high water and more than three hours after high water.
---
Return to Area Map