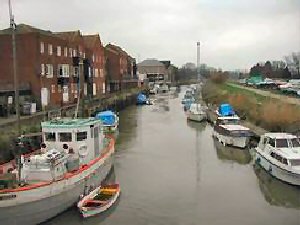 Image ©
Bob Jones
Sandwich
Latitude: 51° 16'N
Longitude: 01° 23'E
Country: England
Ownership: Sandwich Port and Haven Commissioners
Type: Trust
Usage: Leisure
Contact name: Mrs Miriam Bull, Clerk to the Commissioners
Address: 1 Potter Street, Sandwich, Kent CT13 9DR
Telephone no: 01304 612162
Website: www.open-sandwich.co.uk/c...ndwich.htm

About Sandwich
Sandwich is now about two miles from the sea, but the River Stour used to be large enough for big trading and war ships to sail to and from the quay. This large harbour was called Sandwich Haven. It was also large enough for invading ships, hence the town wall.
In 1500 the River Stour suffered serious silting up problems resulting in deterioration of the Port. In 1847 it was dredged to remove the silt, but this only had a temporary effect.
Sandwich is still a Trust port, but its activities are restricted to leisure craft.
---
Return to Area Map