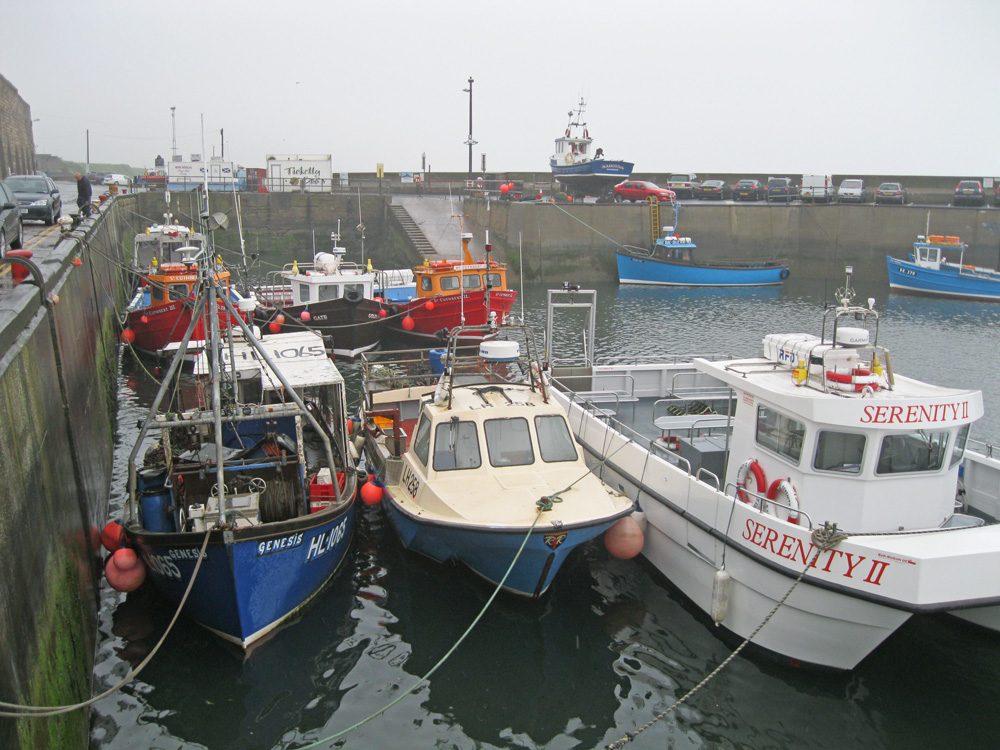 Image ©
Bob Jones
Seahouses
Latitude: 55° 35'N
Longitude: 01° 40'W
Country: England
Ownership: North Sunderland Harbour Commission
Type: Trust
Usage: Leisure, Fishing
Contact name: Mr R H Reay
Address: 18 Seafield Rd, Seahouses, Northumberland, NE68 7SL
Telephone no: 01665 720033
Website: www.seahouses.org/communi.../index.htm

About Seahouses
Seahouses harbour evolved from a beach area between two rock promontories as a result of many hundreds of years of combined protective features.
The fishing trade in the 17th century provided the first requirement for conventional harbour facilities resulting in the provision of a small wooden jetty. The Lord Crewe Trustees established the first pier on the modern harbour in the early 1700's for the flourishing lime trade. The additional export of coal from the harbour resulted in the decision to construct the major structures of the harbour, the North and East piers.
The mid 19th century marked the harbour's peak of activity with the main facilities including four limekilns and the main piers in full use. With the decline of the coal and lime trades at the turn of the 19th century the harbour earned its income from the area's traditional industry of fishing, which not only supported 50 herring boats but also a substantial curing industry and fish market on shore.
The harbour had always catered for passenger trade in providing the closest port of call for visitors to the Farne Islands, and in 1933 the East pier was extended. More recently a hammer head has been added to the north pier which incorporates a flight of steps and is used at low tides by the Party Boats going to the Farne Islands.
In 1988 a wall was contracted under Crewe Street to combat cliff erosion, and in 1991 the inner harbour received a 600mm concrete casing.
With the decline of the fishing industry, activity within the harbour has become more heavily dependent on the leisure and tourism sectors. In 2000 a £160,000 repairs programme begun aimed at carrying out some emergency repairs to the walls as well as extending the slipway to low water level. Dredging of the outer harbour and an underwater survey of the harbour floor has also taken place.
---
Return to Area Map