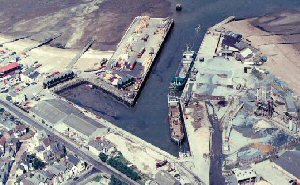 Image ©
Canterbury City Council
Whitstable
Latitude: 51° 21'N
Longitude: 01° 05'E
Country: England
Ownership: Canterbury City Council
Type: Municipal
Usage: Fishing, Commercial
Contact name: Mike Wier, Port Manager & Harbour Master
Address: Harbour Office, East Gate, Whitstable, Kent CT5 1AB
Telephone no: 01227 274086
E-mail: mike.wier@canterbury.gov.uk
Website: http://whitstableharbour.org/

About Whitstable
Whitstable is a small commercial harbour in north Kent on the Thames estuary, some 20 miles round the north east tip of the Kent Coast from Ramsgate.
Whitstable Harbour was built in 1832 to serve the new railway, the world's first regular steam passenger railway from Canterbury. Charles Deane wrote letters to the Admiralty in 1834 giving "Mary, Whitstable Harbour" as his address. Mary of Ramsgate was William Edward's boat and was later engaged in the work on the Royal George. During the following century many diving vessels worked out of the harbour at Whitstable, as far afield as West Africa and the Caribbean.
Nowadays, Whitstable Harbour is a municipal harbour owned by Canterbury City Council and directed by the Whitstable Harbour Board. The town is famous for its oysters and the harbour has a number of shops, in large sheds, which sell fish and shellfish or are seafood cafes. Some old fishermen's huts are now holiday lets.
Commercial operations take place at East Quay, with the import of roadstone, whilst fishing boats use the inner harbour.
See
here
for a detailed history of Whitstable Harbour.
---
Return to Area Map