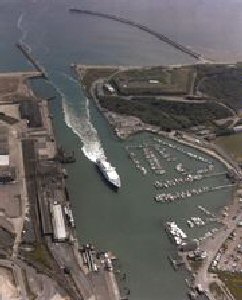 Image ©
Sea Containers
Newhaven (England)
Latitude: 50° 47'N
Longitude: 00° 02'E
Country: England
Ownership: Newhaven Port and Properties Ltd
Type: Private
Usage: Leisure, Fishing, Commercial, Ferry Terminal
Contact name: Mr Wayne Streeter
Address: East Quay, Newhaven, East Sussex, BN9 0BN
Telephone no: 01273 612900
Website: www.newhavenportauthority.co.uk

About Newhaven (England)
Situated at the mouth of the River Ouse in East Sussex, the entrance to Newhaven's harbour lies between two piers, protected from the prevailing wind by a substantial breakwater to the west.
Established as the settlement of "Meeching" by the Saxons, the town's fortunes picked up when in 1579 the Ouse broke through the shingle bar creating a new harbour at Seaford's expense.
Wealden oak, wine and spirits from the continent and slab ice from the Baltic were shipped through the port. The town flourished with shipbuilding yards and breweries. The railway reached Newhaven in the 1840s and the first ferry service was established soon after, providing the shortest land- sea route between London and Paris. As befitted a prosperous harbour town, Newhaven had an imposing hotel, The London and Paris. Built in 1848 and demolished 110 years later, it is remembered with affection by thousands of travellers and by the forces for whom it was the last glimpse of England as they left for the ill-fated Dieppe Raid.
In March 2007 LD Lines took over the ferry service from Transmanche, offering a year-round cross-channel route for freight, coaches, cars and passengers from Newhaven to the French port of Dieppe. LD Lines opened a new daily summer link to Le Havre in May 2007, connecting Newhaven travellers to the largest French port on the Western Channel coast.
Newhaven harbour can accommodate vessels of up to 145 metres in length, with a maximum draft of 8 metres. The entrance is kept dredged to a depth of 6 metres.
---
Return to Area Map