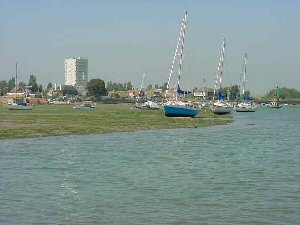 Image ©
Langstone Harbour Board
Langstone
Latitude: 50° 47'N
Longitude: 00° 59'W
Country: England
Ownership: Langstone Harbour Board
Type: Trust
Usage: Leisure, Fishing, Commercial
Contact name: Capt Nigel Jardine, Harbour Master
Address: Harbour Office, Ferry Road, Hayling Island, Hants, PO11 0DG
Telephone no: 02392 463419
E-mail: harbourmaster@langstoneharbour.org.uk
Website: www.langstoneharbour.org.uk

About Langstone
Langstone Harbour is a large tidal bay lying between Hayling Island and Portsmouth. A narrow entrance protects the harbour from the open sea and small channels link Langstone with Portsmouth Harbour to the west and Chichester Harbour to the east. At high tide water covers about 1900 hectares but at low tide only about 200 hectares are under water, leaving 1700 hectares of mud exposed. Saltmarsh and cordgrass cover the more sheltered areas of shore and islands within the harbour are used by nesting seabirds.
At the time of the last ice age, the area would have been a wooded valley with streams running along the course of today's channels into the river Solent and there is evidence that stone age man lived and hunted in the valley. As the icecaps melted and sea levels rose at the end of the ice age the sea gradually flooded the area until something like the present shape of the harbour was reached around 5000 years ago.
Since then man has been the main force in shaping the harbour, reclaiming land for agriculture, development and waste disposal, particularly along the north and west shores. As sea levels continue to rise the hard sea walls prevent the natural process of the mudflats and saltmarshes moving inland. These habitats are trapped between the higher sea level and the walls, a process known as coastal squeeze - one of the biggest threats to the special habitats of the harbour and all along the coast of southern England.
The harbour is important for its environmental designations and commercial shipping and fishing and recreational boating have been supported in the harbour for many years. It is a haven for charter fishing boats.
The harbour is much used for recreation, both on and off the water and there are a number of mooring areas providing both deep water and drying moorings for several hundred boats. There is a small fleet of commercial fishing vessels and commercial ships land goods at two wharves.
Langstone harbour supports a busy trade in sea-dredged aggregates through Kendallís Wharf on the western side of the harbour and Bedhampton Wharf in the north of the harbour. Vessels of up to 80 metres overall length can be accommodated and cargoes other than marine aggregate may be accepted by arrangement with berth operators. Over half a million tonnes of marine aggregate are imported annually through Langstone Harbour. In the year to April 2002 the two commercial wharves handled some 470 vessels.
---
Return to Area Map