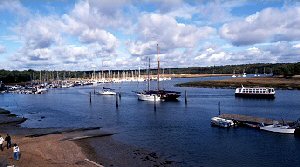 Image ©
Buckler's Hard.co.uk
Beaulieu
Latitude: 50° 49'N
Longitude: 01° 26'W
Country: England
Ownership: Montagu Estates
Type: Private
Usage: Leisure
Contact name: Mr John Edward
Address: Harbour Masters Office, Buckler's Hard, Beaulieu, Hampshire, SO42 7XB
Telephone no: 01590 616200
E-mail: beaulieu@tcp.co.uk
Website: www.harbours.co.uk/beauli...ulieu.html

About Beaulieu
In the Solent, almost opposite Cowes, the Beaulieu River and the 18th century shipbuilding village of Buckler's Hard occupy a superb location surrounded by oak woodland within the Beaulieu Estate. Buckler's Hard has been in the private ownership of the Montagu family since it was founded in 1724.
There was a wharf at Beaulieu on the Abbey side of the bridge from the early 13th century. Baileyís Hard was used from the late 17th century, whilst Bucklerís Hard was established in the early 18th century and is one of Englandís most attractive and unusual villages. It was created in the early 18th century by the 2nd Duke of Montagu, who planned to build a free port on the banks of the Beaulieu River for the import and export of sugar from the West Indies. The idea failed to get off the ground when the French captured the islands, but from the 1740ís the site was used for the building of over 50 wooden ships for the Royal Navy.
During the 2nd World War, the village and surrounding area became a hive of activity and access was restricted, when the Admiralty requisitioned the River. Just up stream from Bucklerís Hard, an experimental concrete floating dock was constructed and sections of the Mulberry harbours were built in the old oyster beds. Hundreds of landing craft and their crews gathered on the River before leaving for Normandy and the D-Day Landings. Clandestine operations took place to test the catapult trolley needed to launch a smoke-laying pilotless aircraft called the Swallow, which had been designed by Nevil Shute. In more recent times, Bucklerís Hard has been the home port of Sir Francis Chichester, the famous yachtsman, who circumnavigated the globe in his yacht, Gipsy Moth IV in 1966-7.
The uniquely situated Yacht Harbour offers 110 berths in a beautiful and sheltered reach of the Beaulieu River.
---
Return to Area Map