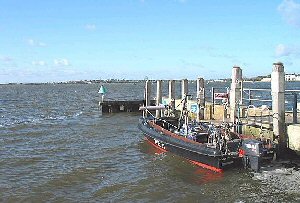 Image ©
Bob Jones
Christchurch
Latitude: 50° 43'N
Longitude: 01° 45'W
Country: England
Ownership: Bournemouth & West Hampshire Water Company
Type: Private
Usage: Leisure
Telephone no: 01202 590059

About Christchurch
Christchurch Harbour, in the lee of Hengistbury Head, owes its origin to the post-glacial rise in sea level. After the sea broke through the chalk ridge between the Isle of Wight and Purbeck it flooded into the lowland drained by the ancient Solent River forming Poole and Christchurch Bays. Further flooding saw the drowning of the lower parts of the combined valley of the Avon and Stour to form Christchurch Harbour.
Around the time when the Romans invaded France, trading links were established between France and Britain. Hengistbury Head became one of the main trading ports of this country, exporting copper, gold, silver and iron and importing luxury goods such as wine and glass to make beads and bracelets. It is also probable that slaves were exported from here. The boats used for this trade were of shallow draft and oak-planked and were propelled with square leather sails. It must have taken at least twelve hours to cross from Cherbourg and compasses and weather forecasts had not been invented!
The port thrived for about fifty years but quickly declined when Caesar invaded Belgium and shorter trading routes from South East England were opened up. Hengistbury continued in use and became a major settlement for the Durotriges - the local tribe - who established gravelled roads, fenced rectangular house plots and industries such as iron smelting and coin minting. Following the Roman conquest in 43 AD the town declined but a small farming village remained on the site for a further 300 years.
Today Christchurch Harbour is a popular tourist resort specialising in water sports. Mudeford Quay is located within the harbour. There is a small but thriving local fishing community at the Quay and in the summer mackerel fishing can be arranged for a small fee. There is a ferry across the Run for those who fancy a walk over Hengistbury Head. The
Mudeford Personal Watercraft Club
operate from the quay.
---
Return to Area Map