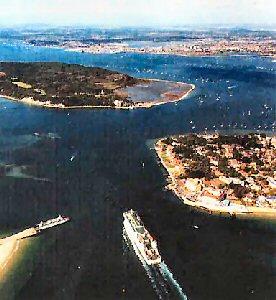 Poole
Latitude: 50° 42'N
Longitude: 01° 57'W
Country: England
Ownership: Poole Harbour Commissioners
Type: Trust
Usage: Leisure, Fishing, Commercial
Contact name: Jim Stewart, Chief Executive
Address: 20 New Quay Road, Poole, Dorset, BH15 4AF
Telephone no: 01202 440210
E-mail: pooleharbourcommissioners@phc.co.uk
Website: www.phc.co.uk

About Poole
The Romans used Poole as an invasion port for their conquest of southern Britain. At the time of the Norman conquest Poole may have been a tiny fishing village. Huge deposits of oyster shells dating to late Saxon or early Norman times lie under Poole and Hamworthy Quays. The port steadily grew in importance and in 1433 was made Dorset's Port of the Staple. The 14th century Town Cellars were once used to store wool prior to export. Medieval Poole had trading links from the Baltic to Spain and Italy. The 17th century saw the start of a transatlantic trade which became vital to the town. In particular, trade with Newfoundland was the foundation of many fortunes among Poole merchants. In the early 18th century Poole had more ships trading with North America than any other English port.
At the start of the 19th century 90% of the working population was involved in the activity of the Harbour. However, one hundred years later, that figure had dropped to just 20%. This was partly due to the new railway and new industries not associated with the Harbour, but also resulted from the advent of deeper draught vessels which could not use Poole.
Since that time the Port has regained its importance and, in the last twenty years, has seen a considerable increase in prosperity through a programme of modernisation which has redeveloped the commercial links with Europe. Today, Poole is a busy and thriving Channel Port.
There is a regular
cross-Channel service
between Poole and Cherbourg. The largest of the ferries is the 'Barfleur' which is 20,000 tonnes, 157m (515 ft) long and 23m (76 ft) wide. A daily fast ferry service which has a journey time of only 135 minutes also runs to Cherbourg from May to September.
From April to October a
fast ferry service
connects Poole with the Channel Islands of Guernsey and Jersey and from May to September this service also runs to St. Malo.
Poole is a major port for bulk cargo imports such as steel, Arcelor Group Link rye (for Ryvita) and palletised traffic. Export cargoes include clay and malting barley. Dredgers are also regular visitors to discharge their cargoes of sand and gravel.
During the tourist season, sightseeing vessels operate from Poole Quay to Brownsea Island and also around the other islands in the Harbour.
Poole has a thriving fishing industry, particularly for shellfish, crabs and lobsters. Vessels cast and draw in nets and trawls1 and work on the shellfish beds Around 100 boats land some 2,800 tonnes of fish and shellfish each year.
One of Europe's largest on-shore oil fields lies under the Harbour and Poole Bay. The Furzey Island supply vessel sails from the BP base at Hamworthy.
---
Return to Area Map