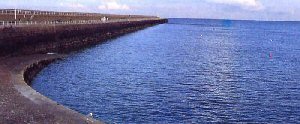 St Catherine (Jersey)
Latitude: 49° 13'N
Longitude: 02° 01'W
Country: Channel Islands
Ownership: States of Jersey
Type: Municipal
Usage: Leisure, Fishing
Contact name: Capt. Howard Le Cornu, Harbourmaster
Address: Maritime House, La Route du Port Elizabeth, St Helier, Jersey JE1 1HB
Telephone no: 01534 447788
E-mail: jerseyharbours@gov.je
Website: www.portofjersey.je/Jerse...bours.aspx

About St Catherine (Jersey)
St. Catherine's Breakwater, on Jersey's north coast, is all that exists of a projected "refuge" harbour for the Royal Navy. It was intended to be used as a forward base in the event of a blockade of the French coast.
The harbour was designed during the period of Anglo-French rivalry during the 1840s, and work began on the North breakwater in 1847. It was finished in 1855, by which time Britain and France were fighting as allies against the Russians, and the planned Southern breakwater was never completed.
The breakwater provides shelter from south-westerly to north winds. The bottom of the harbour is mud and sand, and there is a landing slip at the base of the breakwater.
It is now used mainly by leisure craft as a quiet anchorage. Fishermen use the long breakwater for catching conger eels, mackerel and bass.
---
Return to Area Map