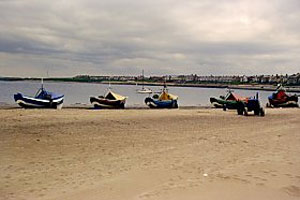 Image ©
Bob Jones
Newbiggin
Latitude: 55° 10'N
Longitude: 01° 31'W
Country: England
About Newbiggin
Newbiggin-by-the-sea is an attractive seaside town which has made good use of its links with the sea over the centuries.
In medieval times it had a harbour of some importance which engaged in the shipping of local corn, for which at one time it was third in importance after London and Hull. This trade has declined but fishing has remained important.
Fishing expanded rapidly from the middle of the 19th century until the start of the first world war. That was the era of the herring boom, when "travelling the herring" became a way of life. Newbiggin played an important part during that time, when coopering and smoking facilities were installed in the village. In 1869 when fishing legislation required compulsory registration of fishing vessels, 142 cobles were recorded in Newbiggin .
Today, although there is no longer a harbour, seven traditional Northumbrian fishing cobles (distinctive open, flat-bottomed fishing boats which respond well to oars and sail, and can be hauled on to beaches and launched simply) sail out of Newbiggin, bringing in cod for local consumption. Eight larger vessels, which require harbour facilities, fish from Blyth.
---
Return to Former Harbours Map