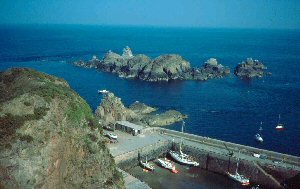 Image ©
Bob Jones
Creux (Sark)
Latitude: 49° 26'N
Longitude: 02° 20'W
Country: Channel Islands
Ownership: Isle of Sark Harbours Committee
Type: Private
Usage: Leisure, Fishing

About Creux (Sark)
The first harbour at Creux was built in 1588 by the first settlers, but the present harbour dates from 1868, the winter storms of 1865/6 destroying the original walls.
The picturesque old harbour is now used mainly by fishermen and yachtsmen, or by ferries which cannot enter Maseline Harbour due to adverse conditions. There is also a small enclosed beach reached via a tunnel in the rock.
The famous Sark Water Carnival is held at Creux in mid summer.
---
Return to Area Map