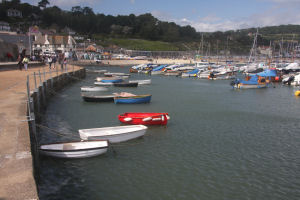 Image ©
Bob Jones
Lyme Regis
Latitude: 50° 43'N
Longitude: 02° 56'W
Country: England
Ownership: West Dorset District Council
Type: Municipal
Usage: Leisure, Fishing
Contact name: Mr M Poupard, Harbour Master
Address: Harbourmaster's Office, The Cobb, Lyme Regis, Dorset
Telephone no: 01297 442137
E-mail: m.poupard@westdorset-dc.gov.uk
Website: www.westdorset-dc.gov.uk/...icleid=236

About Lyme Regis
The first written record of Lyme Regis was in 774AD when the West Saxon King Cynewulf gave the land along the river Lym to the monks of Sherborne Abbey, to establish a sea salt manufacturing industry. However man had inhabited this area since the Iron Age.
The town was known by the Romans as "Lym Supra Mare". Lyme takes its name from the river Lym, Lym meaning a torrent of water.
Lyme Regis boasts a turbulent past, its most well known feature being The Cobb, a Grade 1 listed structure. It has been a trading centre since medieval times. In the Tudor era it was one of the most important ports on the south coast, its ships sailing to most parts of the then known world.
The harbour no longer accepts commercial cargo vessels.
There is a small fishing fleet and commercial tripping boats operate from the harbour. In the summer the harbour is used mainly by leisure craft. The Council requires these tripping boats to have a "ply for hire licence" to allow them to operate from the harbour. Licences are issued on receipt of a fee and confirmation that the boat has a Small Commercial Vessel Certificate and valid insurance.
There are moorings within the harbour that dry out and are let on an annual basis. There is a large waiting list for moorings.
---
Return to Area Map