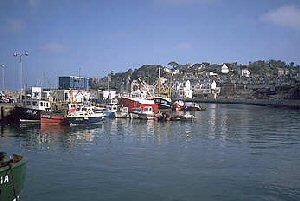 Image ©
Bob Jones
Brixham
Latitude: 50° 23'N
Longitude: 03° 30'W
Country: England
Ownership: Torbay District Council
Type: Municipal
Usage: Leisure, Fishing
Contact name: Capt. Paul Labistour, Harbour Master
Address: Brixham Harbour Master's Office, New Fish Quay, Brixham, Devon, TQ5 8AJ
Telephone no: 01803 851854
E-mail: marine.services@torbay.gov.uk
Website: www.torbay.gov.uk/index/l...arbour.htm

About Brixham
For centuries the port of Brixham has made its living from the sea. It was in the Middle Ages that Brixham established itself as a major fishing port and by 1850 it was said to be the largest fishery in England. Its narrow street with rows of fisherman's cottages, back alleys and caves also made the haven for smugglers.
In 1688 Prince William of Orange landed at the port and marched through the street on his way to claim the throne as King William III. And so Brixham was the cradle of the bloodless English Revolution.
Brixham Harbour is located on the southern aspect of Tor Bay and boasts one of the largest fishing fleets in the UK, plus a thriving fish market to support it.
Over 100 fishing boats land and sell their catch at the local Fish Market on the quayside. A visitor viewing platform is strategically placed so visitors can watch the busy comings and goings of the fishing fleet, made up of large beam trawlers and the smaller day boats. Some of the smaller day boats can actually been seen working at various vantage points around Tor Bay i.e. Berry Head, Fishcombe and Hopes Nose.
Approached from the sea the view of Brixham with its many colourful houses cascading down on either side of the harbour is one of the prettiest along the South Devon coast. Brixham personifies the classic English fishing port, mixing tradition with a modern vibrant industry.
There is currently a huge regeneration project being considered for the future of the town and harbour, involving the possibility of a northern arm breakwater, development of reclaimed land, revitilising the central area and a review of the transport system.
There are two slipways in Brixham harbour that are used for launching and recovery. One can be found at the southern end of Oxen Cove car park and the other facility is located adjacent to the Breakwater Hard which is located at the south eastern corner of the harbour.
The moorings in the outer harbour comprise of mainly swinging moorings divided along the centre by the Fairway there are also a few outhaul moorings.
The inner harbour at Brixham is tidal and therefore, boat movement is restricted at low tide. and the moorings dry.
---
Return to Area Map