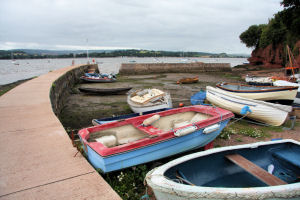 Image ©
Bob Jones
Lympstone
Latitude: 50° 38'N
Longitude: 03° 25'W
Country: England
Ownership: The Lympstone Fishery and Harbour Association
Type: Unknown
Usage: Leisure, Fishing
Contact name: Harbour Master
Address: PO Box 5, Lympstone, Devon, EX8 5JL
Telephone no: 01395 273123 (HM); 01395 278807 (Association)

About Lympstone
Lympstone Harbour, or Boat Haven, is situated on the eastern shore of the Exe Estuary. The village was an important shipbulidng port as far back as the Middle Ages. It remained an important fishing centre until after World War II.
The Lympstone Fishery and Harbour Association is responsible for the administration of the Lympstone harbour area and the maintenance of the harbour wall. The foreshore at Lympstone has recently been purchased by the Harbour Association from the Nutwell Estate.
Sailing times are dictated by the tide and are limited to approximately 2 hours either side of high water. There is an active
sailing club
.
---
Return to Area Map