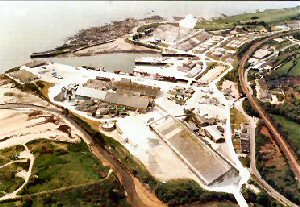 Par
Latitude: 50° 20'N
Longitude: 04° 42'W
Country: England
Ownership: Imerys Minerals Ltd
Type: Private
Usage: Commercial
Address: Imerys Minerals Ltd, Par Moor Road, Par, Cornwall, PL24 2SQ

About Par
Par harbour was built by a local entrepreneur J T Treffry who wanted it to export the copper from his mine. In 1829 work began on the site of a small cove called Porth at the western end of this sandbank, and a breakwater was built along the line of a reef called Spit rocks. This breakwater enclosed 36 acres of harbour and was capable of taking up to about 50 vessels of about 200 tons each.
Cornish granite was exported in the early days for such famous landmarks as Waterloo Bridge, Chatham Docks, Gibraltar Docks and Glasgow Docks.
Today the port has eight berths although not all can be used for commercial traffic. The primary trade is china clay but the port also imports timber and oil and, increasingly, exports aggregates.
Par is a tidal port, ships taking the bottom at low water. Normally ships are moved from between 2 hours before high water and 2 hours after. Draft is restricted to the height of the tide so nowadays some ships are unable to load fully and have to sail around to Fowey to complete their cargoes. The pilot boards about half a mile from the entrance from the 'Par Pilot', a combination mpilot cutter and mini tug. Ships are generally swung lightship on entry with the assistance of the tug. The exception to this is the tanker berth where oil is discharged for the clay driers and slurry is loaded.
Imerys Minerals Ltd. operate substantial harbour facilities in Par, Cornwall from where many thousands of tonnes of China Clay is shipped each year. The outer harbour wall is exposed to the prevailing south westerly winds and suffers during times of storm.
---
Return to Area Map