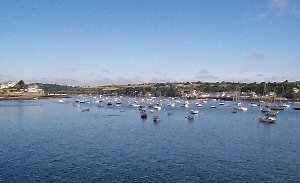 Image ©
Bob Jones
Penryn
Latitude: 50° 09'N
Longitude: 05° 05'W
Country: England
Ownership: Truro Harbour Authority (part of Carrick District Council)
Type: Municipal
Usage: Leisure, Fishing
Contact name: Capt. Andy Brigden, Truro Harbour Master
Address: Harbour Office, Town Quay, Truro, Cornwall, TR1 2 HJ
Telephone no: 01872 224231
E-mail: abrigden@carrick.gov.uk
Website: www.portoftruro.co.uk

About Penryn
In the middle ages Penryn did comparatively little trade, but developed as a victualling port, with good supplies of corn from no less than four mills and copious fresh water. Many ships called here for supplies, either before their outward voyage or on arrival from the Atlantic, before completing the voyage to London, Antwerp or the Baltic.
Like Truro it was important when ships were too small for the more exposed waters of Falmouth. The late seventeenth century was its heyday, with many schooners alongside Exchequer Quay; contrary to popular belief the development of Falmouth did not damage Penryn's trade, which actually increased, due to exports of granite and tin, imports of coal, charcoal, timber and manufactured goods for the mining hinterland. Until the development of Devoran around 1820 Penryn handled most of this trade.
In addition to this a trade began to flourish with the American colonies, imports of tobacco and exports of all the general products which could be made more cheaply in England, everything from socks to clay pipes.
Granite for dockyards, lighthouses, London bridges and Irish churches became highly significant in the early nineteenth century, and by this time shipowners of Penryn had regular shipping routes to London (six vessels), Plymouth and the Solent.
Cattle were imported here from Spain in the late nineteenth century and forced to swim ashore to save quarantining them – it being supposed that salt water would act as a disinfectant. This trade was stopped because sometimes foul winds and a slow passage led to their arriving in poor condition.
Today Penryn is part of the port of Truro and is used mainly for fishing and leisure activities, together with some specialist marine and diving craft. The Town Quay can handle vessels up to 54 metres in length. The harbour dries at low water.
---
Return to Area Map