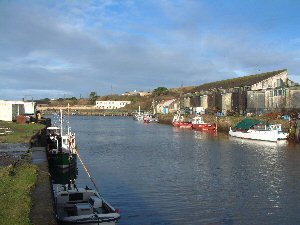 Image ©
Bob Jones
Hayle
Latitude: 50° 11'N
Longitude: 05° 25'W
Country: England
Ownership: Hayle Harbour Management Ltd (part of ING Real Estate)
Type: Private
Usage: Leisure, Fishing, Commercial
Contact name: Capt. Mark Capon, Harbourmaster
Address: The Old Customs House, North Quay, Hayle, TR27 4BL
Telephone no: 01736 754043
E-mail: HM@hayleharbourauthority.co.uk
Website: www.hayleharbourauthority...fault.aspx

About Hayle
Hayle is a tidal harbour with facilities for vessels of beam 12 metres, overall length 60 metres and draft 4 metres.
Hayle's success was initially founded on the smelting of copper, demanding massive imports of coal; this had ceased by 1806 because it was found economical to smelt the ore in South Wales. But there was a continuing export of copper ore and tin. The next development was Harvey's Foundry, which imported iron and fuel and exported finished products. In 1842, for example, the foundry despatched 1800 tons of ironwork to construct Clifton suspension bridge. The foundry later turned to iron shipbuilding and at one time it employed a thousand people.
The channel by which shipping approached Hayle was formed by the Cornish Copper Company in 1769 but vessels over 70 tons could not enter on account of the obstruction caused by shifting sands. In 1788 an embankment was built across the mouth of Phillack Creek: the pent-up water was released in a rush at low tide to flush away the sand. Further improvements were made and by 1870 shipping of 250 tons could approach the quays.
A regular steamship service to Bristol was established in the 1830s and, until the through rail link to London was established in 1859, Hayle thrived on exports to Bristol for onward shipment by rail to London. The completion of the railway, the decline of the mining industry and the impossibility of accommodating large modern ships in a shallow estuary combined to reduce activity at the port.
Hayle Harbour is operated under the Hayle Harbour Act by Hayle Harbour Management Ltd., and is primarily a shellfish port. In addition, winter berthing is provided for the St. Ives fishing fleet. A number of the quay walls are listed structures, but many have fallen into disrepair, showing a range of structural defects that require remediation. A need to find a changed sustainable role for the harbour area to reverse the decline and improve conditions for economic and social growth has become a constant pressure.
---
Return to Area Map