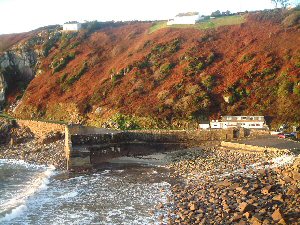 Image ©
Bob Jones
Lamorna
Latitude: 50° 03'N
Longitude: 05° 34'W
Country: England
Type: Private
Usage: Leisure
Contact name: Daniel Stevenson
Address: West Penwith, Cornwall TR19 6XQ
Telephone no: 01736 731734

About Lamorna
Situated between the beautiful beach of Porthcurno and the picturesque village of Mousehole, Lamorna Cove is a wonderful, rugged, short coastline that remains privately owned. Famous in the past for its granite quarry this isolated hamlet was immortalised by the artist Lamaorna Birch and the author Derek Gangye, who were among several Newlyn artists attracted to this cove between 1880 and 1910. It was also a beloved place for Alfred Mullings, Nancy Mitford and John le Carré, the spy novelist.
Nature has won back this centre of Victorian industry where quarrying for high quality granite began in 1849. A timber jetty was first used to load the granite on to ships, but this was replaced with a stone pier in 1854. Heavy seas often delayed loading stone and threatened moored vessels. This raised the price of Lamorna granite and sea transport was abandoned in favour of difficult but regular transport overland to Penzance. The quarries ceased production in 1911.
Today all is peace and beauty at Lamorna, except in October 2004, when storms caused severe damage to the outer wall.
---
Return to Area Map