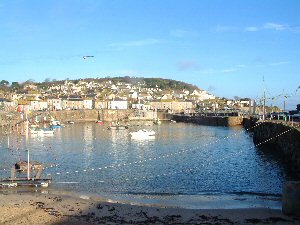 Image ©
Bob Jones
Mousehole
Latitude: 50° 05'N
Longitude: 05° 32'W
Country: England
Ownership: Mousehole Harbour Authority
Type: Trust
Usage: Leisure, Fishing
Contact name: Mr Frank Wallis, Harbour Master
Address: Harbour Office, Mousehole, TR19 6TQ
Telephone no: 01736 731511

About Mousehole
Mousehole was probably an older port than Penzance or Newlyn and back in the 13th Century it was the main fishing port in Mounts Bay, remaining so well into the 16th Century until Penzance and Newlyn began to gain ascendancy. However, even in the last century there were still hundreds of people employed here in fishing, packing and transporting of fish.
Primarily a fishing community, Mousehole nevertheless exported cured fish train oil and woollen cloth to the English garrisons of Gascony in the fourteenth century and brought back salt for fish curing. Its breakwater was the earliest in Cornwall, begun in 1393. Small cargo ships visited it until about 1900.
Over the years the harbour walls were gradually extended and built to cater for the hive of activity taking place. Standing on the quay today one can hardly imagine all the sailing vessels putting into such a small space.
---
Return to Area Map