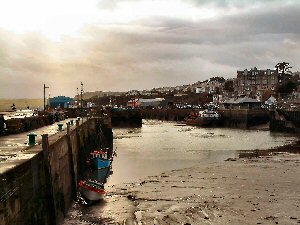 Image ©
Bob Jones
Padstow
Latitude: 50° 33'N
Longitude: 04° 56'W
Country: England
Ownership: Padstow Harbour Commissioners
Type: Trust
Usage: Leisure, Fishing, Commercial
Contact name: Capt R M Atkinson, Port Administrator/Harbour Master
Address: The Harbour Office, Padstow, Cornwall, PL28 8AQ
Telephone no: 01841 532239
E-mail: padstowharbour@btconnect.com
Website: www.padstow-harbour.co.uk

About Padstow
Padstow's importance has been historically variable, depending until the nineteenth century on the amount of trade with Ireland. Possibly in the period after the departure of the Romans the level of trade was significant, and the town claims its origin from that time, although some historians believe that Rock was then of greater significance than Padstow. In the later middle ages there was little Irish trade but as English attempts to colonise Ireland increased in Elizabethan times, so trade increased and Padstow prospered.
Then in the eighteenth century a new trade developed, no longer dependent on Ireland. Copper ore and refined tin were shipped out, as were slates and farm produce; timber, coal, salt and many other products were imported.
In 1862 quarrying began at Stepper Point, in order to improve the wind at the mouth of the estuary; previously it was so turbulent and confusing that a capstan was erected on Stepper Point to haul ships in. In the late 19th century there would be 40 or 50 cargo ships waiting to unload, but trade gradually fell away.
Tradition has it that an ill-treated mermaid had condemned the port to be overcome with sand. By 1950 the harbour was so silted up that no ship could float at low tide, but some coal boats up to 800 tons still used it. That was its low point. Today there are strenuous efforts to make the port viable again, with steady dredging and a throughput of over 600,000 tons, so Padstow is no longer a 'lost port' but is rapidly re-finding itself.
The harbour is a centre for dinghy sailing, with mooring and launching facilities suitable for all types of small craft. A passenger ferry operates between Padstow and the village of Rock, on the opposite bank of the River Camel. At high water, the river is navigable by small boats as far as Wadebridge.
---
Return to Area Map