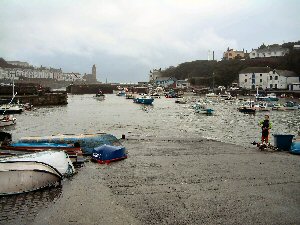 Image ©
Bob Jones
Porthleven
Latitude: 50° 05'N
Longitude: 05° 18'W
Country: England
Ownership: Porthleven Harbour and Dock Company
Type: Private
Usage: Leisure, Fishing
Contact name: Mr Philip Ward, Harbour Master
Address: The Harbour Master's Office, Commercial Road, Porthleven, Cornwall TR13 9JD
Telephone no: 01326 574270 or (in emergency) 07971 278551
Website: www.porthleven-online.com/custom.html

About Porthleven
The mines of Breage, Germoe and Wendron were among the most active in Cornwall, and Porthleven seemed ideally placed to act as their port, especially when Gweek was silting up. There was an Act in 1811 to enable the harbour to be improved and much money was expended, but the attempt was a failure. Harveys of Hayle took the project over in 1855 and by building a lock made the port available to light shipping, and far safer for the fishing fleet.
The harbour faces south-west into the worst of the gales and it is not surprising that the breakwaters often suffered damage, and indeed still do. Its main claim to fame is as Britain's most southerly port.
Porthlevenís origins are in fishing, the export of china clay, stone and minerals mined on the cliff-sides and hills and the import of timber and other supplies into the County. Porthlevenís commercial role as a Port has long since passed but it still plays host to a number of fishing boats and an increasing number of local pleasure craft and visiting yachts.
---
Return to Area Map