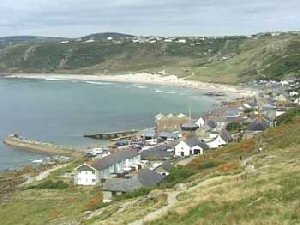 Image ©
Sennen-Cove.com
Sennen Cove
Latitude: 50° 04'N
Longitude: 05° 42'W
Country: England
Ownership: Sennen Cove Harbour Commissioners
Type: Trust
Usage: Leisure, Fishing
E-mail: admin@sennen-cove.com
Website: www.sennen-cove.com/harbour.htm

About Sennen Cove
Sennen Cove lies just one mile northeast of Lands End, at the south western tip of Cornwall.
Sheltered by the mighty headland of Pedn-men-du, the Cove is tucked into the southeast corner of Whitesand Bay, with Sennen Cove Beach and Gwenver Beach to the northeast.
The harbour was formerly used by pilchard boats, the breakwater having been built around 1908.
Sennen Cove Harbour supports a small fleet of commercial fishing boats; and is home to a number of small pleasure-fishing boats. The largest boat is about 5 metres overall length. There is an electric winch to haul the boats across the beach and onto the slipway - the winch is also employed via an outhaul system to haul the larger boats afloat ; the smaller ones being launched by hand over rollers.
There are few facilities at the Harbour for visiting craft; and the approach from seaward is hazardous and should not be attempted without local knowledge or assistance.
---
Return to Area Map