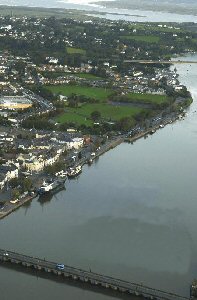 Image ©
Torridge District Council
Bideford
Latitude: 51° 01'N
Longitude: 04° 12'W
Country: England
Ownership: Bideford Harbour Board (Torridge District Council)
Type: Municipal
Usage: Leisure, Fishing, Commercial, Ferry Terminal
Contact name: Mr R Hoad, Harbour Master & Pilot
Address: Torridge District Council, Riverbank House, Bideford EX39 2QG
Telephone no: 01237 428700
E-mail: harbour.master@torridge.gov.uk
Website: www.torridge.gov.uk/index...cleid=4224

About Bideford
Bideford was granted a Market Charter in 1272, but real prosperity developed when it became a thriving port trading with the Americas. For approximately 200 years, from 1550, Bideford, under the patronage of the Grenville family, thrived on shipbuilding, importing timber from Newfoundland for the shipbuilding industry, the production and export of cloth and, for a time, a large proportion of the imported tobacco coming into England arrived at this port.
It is said that the first commercial cargo carried by Sir Walter Raleigh was unloaded at Bideford Quay. Sir Richard Grenvilles mighty little ship, the "Revenge", sailed from here with a crew of hardy Bideford men who took on a fierce sea battle with fifteen Spanish ships off the Azores in 1591. The Grenvilles were given the Manor of Bideford by Rufus, a successor of William the Conqueror, the town remained in Grenville ownership until acquired by the Corporation in 1711.
Today. ships of up to 90 metres length, 13.42 metres beam and 4.5 metres draught are regular callers at Bideford, carrying ball clay from Bideford to Finland and also to Spain, France and Holland.
Bideford Harbour Board is the competent harbour authority for the harbour pursuant to the Pilotage Act 1987, and is authorised by Torridge District Council to carry out this task. The main duties and
responsibilities of the Harbour Board are the provision of pilotage and the provision of navigation aids and generally to ensure safe navigation within the harbour and the quay and wharf.
It is one of the two mainland departure ports for the
MV Oldenburg
to the Island of Lundy (the other being Ilfracombe).
---
Return to Area Map