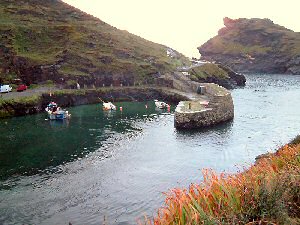 Image ©
Bob Jones
Boscastle
Latitude: 50° 40'N
Longitude: 04° 42'W
Country: England
Ownership: North Cornwall District Council
Type: Municipal
Usage: Leisure, Fishing
Contact name: Mr F Siford, Harbour Master
Address: Sunnyside, Boscastle, PL35 0HD
Telephone no: 01840 250119 or 250453

About Boscastle
The pier is said to have been rebuilt twice before 1584, when the present pier was built by Sir Richard Grenville; this was restored in 1740. It was always virtually impossible to sail out of the harbour: instead a 'hobbling boat' rowed out with the 'warping rope', dropped an anchor with a pulley and brought the other end of the rope back. The shore party then hauled on the rope, thus pulling the ship out towards the anchor.
Manganese ore from near Launceston was shipped in the early nineteenth century, and in 1861 considerable quantities of iron ore from Trebursye, also near Launceston, were apparently being shipped from Boscastle. Later there was some china clay trade. Until 1920, 90 ton cargo boats from Appledore, the
Lively
and the
Bedoe
regularly brought coal, manure and iron.
In August 2004, flash floods devastated the village of Boscastle, necessitating the temporary closure of the harbour. Several cares were washed into the harbour and had to be removed. The harbour has since re-opened and is home to a small fishing fleet and a number of leisure craft.
The
Peganina
is a safe, fast Lochin 33 with all safety equipment for 10 persons with a 20 miles licence. 8 hour day trips (£25.00), 2 hour mackerel trips (£9.00) and ½ day trips (£18.00) are available from Boscastle Harbour. Bookings can be taken at The Rock Shop next door to the hotel.
---
Return to Area Map