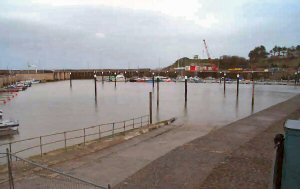 Image ©
Bob Jones
Watchet
Latitude: 51° 10'N
Longitude: 03° 18'W
Country: England
Ownership: West Somerset District Council
Type: Municipal
Usage: Leisure, Fishing
Contact name: Harbour Master
Telephone no: 01984 631264
E-mail: enquiries@watchet-harbour-marina.com
Website: www.watchet-harbour-marina.com

About Watchet
The town of Watchet is over 1000 years old and was the subject of Viking raids for hundreds of years during Saxon times.
The harbour and docks have always been an important part of Watchet's existence. It was a vital port for the transportation of goods and minerals, especially iron ore from the nearby Brendon Hills, and paper making from Watchet Paper Mill. Both of these industries burgeoned during the nineteenth century. The railway line to Taunton was opened around the same time.
Sadly Watchet docks are no longer operational having been closed in January 1993, and the harbour is now solely used for pleasure craft and deep-sea fishing.
For information about boat-mooring, contact the
Watchet Boat Owners' Association
.
---
Return to Area Map