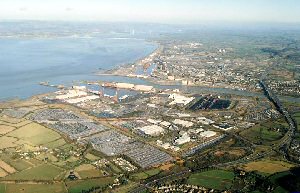 Image ©
Port of Bristol
Bristol (Avonmouth)
Latitude: 51° 29'N
Longitude: 02° 42'W
Country: England
Ownership: The Bristol Port Company
Type: Private
Usage: Commercial
Contact name: Simon Bird
Address: St Andrew's House, St Andrew's Road, Avonmouth, Bristol, BS11 9DQ
Telephone no: 0117 982 0000
E-mail: enquiries@bristolport.co.uk
Website: www.bristolport.co.uk/

About Bristol (Avonmouth)
The Port of Bristol is a major deep water port. The harbour and its operations are designed to accept routinely Cape size vessels of up to 130,000 DWT.
In 1991 First Corporate Shipping Limited, a private company owned by Terence Mordaunt and David Ord, purchased a 150 year lease of the Avonmouth and Royal Portbury Dock Estate from Bristol City Council.
Since 1991 the tonnage throughput has increased from 4m tonnes to 12m tonnes and annual revenue from £22m to £63m. Over £330m has been invested in the dock estate and the Port is now recognised as being one of the most productive and technically advanced in Europe.
The key advantages of Bristol are:-
1. The Port can handle much larger ships than its competitors in the South of England - up to 130,000 tonnes dead weight.
2. Bristol is recognised as the most economical port distribution location in the UK, reaching some 42 million people within a 250 km radius.
3. Huge consumer markets in the Midlands and London, as well as the fast growing South West and South Wales, are within easy reach.
4. Bristol has the best motorway access. Both Avonmouth and Portbury have their own dedicated motorway junctions on the M5 - just seven miles from the M4 interchange and four miles from the Second Severn Crossing.
5. Bristol's entire 2,600 acre Dock Estate is zoned for industrial use and can offer spacious sites adjacent to the Port. Royal Portbury Dock is a modern facility, having been completed in 1978.
6. Both Avonmouth and Royal Portbury Dock are rail connected.
---
Return to Area Map