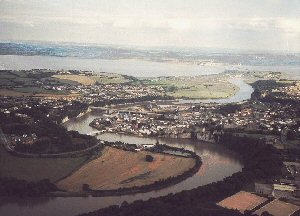 Image ©
The Striguil Zone
Chepstow
Latitude: 51° 39'N
Longitude: 02° 39'W
Country: England
About Chepstow
A busy port & shipyards contributed to Chepstow's wealth particularly in the 18th and early 19th centuries leaving a rich legacy to the town in the many buildings dating from that period.
Chepstow traded in timber and oak bark from the Wye Valley from medieval times. In the early part of the 19th century, its port trade exceeded that of all other South Wales ports combined.
Shipbuilding and ropemaking were important industries that declined during the 19th century. There was a short revival of shipbuilding during the First World War. Twenty thousand workers were brought into Chepstow to cope with the wartime demand for ships.
The River Wye is tidal at Chepstow and rises and falls many metres. To help solve the problem of off-loading goods, stone slipways were built to extend well down the slippery river bank towards the centre of the river. This would allow goods to be loaded and unloaded on boats at any point on the tide.
---
Return to Former Harbours Map