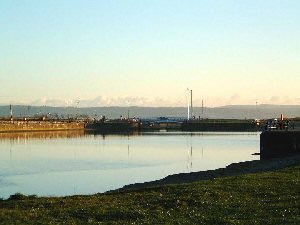 Image ©
Hair Control
Llanelli
Latitude: 51° 40'N
Longitude: 04° 10'W
Country: Wales
About Llanelli
In 1997 the Llanelli Harbour Revision Order established Carmarthenshire County Council as the harbour authority for Llanelli Harbour and transferred to the Council the undertaking of the former Llanelly Harbour Trust, together with all statutory functions hitherto exercised by the Trust.
A further Revision Order for Llanelli's North Dock was published in 2000, authorising the Council to install a fixed bridge. It also extinguished existing rights of navigation over the North Dock and the part of the river Lliedi immediately to the south of North Dock.
The former dock entrance is now blocked and the entire harbour severely silted, though still subject to tidal influence.
---
Return to Former Harbours Map