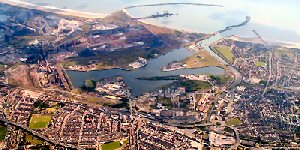 Image © Sam Pritchard
Port Talbot
Latitude: 51° 35'N
Longitude: 03° 48'W
Country: Wales
Ownership: Associated British Ports
Type: Private
Usage: Commercial
Contact name: Mr John Copping, Port Director
Address: Puckey House, The Docks, Port Talbot, West Glamorgan, SA13 1RB
Telephone no: 0870 609 6699
E-mail: jcopping@abports.co.uk
Website: www.abports.co.uk/custinf...s/port.htm

About Port Talbot
Port Talbot is a harbour in Swansea Bay 1 mile from Aberavon which was formerly the port, but by an act in 1836 it was improved and underwent a name change.
The channel of entrance is formed by the river Avon, which now runs into the sea 1ľ miles NW to the old entrance of Aberavon harbour, which is now disused. There is a large floating dock ĺ mile from the sea, upwards of a mile in length, with a depth of 16 to 20 feet of water at all times, which is entered by a lock 44 feet wide and 140 feet long. From this port vessels are employed in carrying copper, iron, tin-plate, coal etc to various parts of the world, which has added very much to the prosperity of the port.
Port Talbot Tidal Harbour has the deepest berthing facilities within the Severn Estuary and is able to accommodate vessels of up to 180,000 cwt. While the harbour is utilised primarily for importing large quantities of iron ore and other raw materials, additional capacity exists for the future expansion of the harbourís cargo-handling capabilities.
Port Talbotís inner docks offer general cargo berths for a variety of traffics including processed slag and timber and can also accommodate heavy lift ro-ro cargoes. Significant potential exists to develop other traffics.
---
Return to Area Map