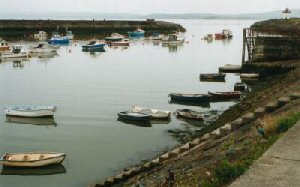 Image ©
Bob Jones
Burry Port
Latitude: 51° 40'N
Longitude: 04° 15'W
Country: Wales
Ownership: Carmarthenshire County Council
Type: Municipal
Usage: Leisure, Fishing
Contact name: Rory Dickinson, Harbourmaster
Telephone no: 01554 777744
E-mail: redickinson@carmarthenshire.gov.uk
Website: www.burryport.org/index.p...ookout.jpg

About Burry Port
With its attractive lighthouse and stunning location, Burry Port Harbour has long been a favourite place to take a stroll and get some sea air. Initially designed by marine engineer Sir Joseph Banks, the harbour was established by an Act of Parliament in 1825. It was originally built to export coal from the Gwendraeth Valley, replacing the 170 year old Pembrey Harbour which lies less than half a mile along the coast.
One of the largest marine civil engineering projects in Wales has recently been carried out at Burry Port Harbour. This project was part of the already very successful Millennium Coastal Park and has created an impounded harbour where up to 260 boats can be safely moored on floating berths at all states of the tide. Much of the restoration work was concentrated on the harbour's western breakwater, which held a gun emplacement during the Second World War.
It was reported recently (December 2005) that shifting sands are causing problems for recreational users of the harbour, with several small craft having run aground on a sandbank. The introduction of a tidal flap gate is thought to have affected the flow of water in the area.
---
Return to Area Map