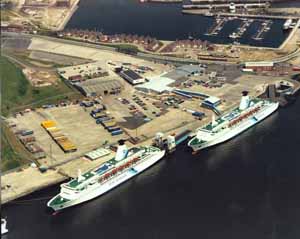 Tyne
Latitude: 54° 59'N
Longitude: 01° 25'W
Country: England
Ownership: Port of Tyne Authority
Type: Trust
Usage: Commercial, Ferry Terminal
Contact name: Ms M Denton-Hawkes, Director Corporate Services
Address: Maritime House, Tyne Dock, South Shields, NE34 9PT
Telephone no: 0191 455 2671
E-mail: melissadh@portoftyne.co.uk
Website: www.portoftyne.co.uk

About Tyne
There has been a port on the Tyne for almost two thousand years. During the Roman period the River Tyne was strategic as a supply line to the many forts along the Wall guarding its northern frontier. Trade in later medieval times centred on the export of wool, hides, grindstones and lead with coal steadily increasing in significance from 1600 onwards. After 1850 there was a rapid increase in the number of ships using the river.
The upsurge in trade and industry fuelled by the Industrial Revolution led to the River Tyne Improvement Act being passed by Parliament in 1850. The new River Tyne Commissioners built the two great masonry piers at the entrance to the river, alleviating the mariner's dread of the notorious Black Middens rocks and the Herd Sand.
The Tyne Improvement Commission controlled the river until superseded by the present Port Of Tyne Authority in 1968 (becoming the Port of Tyne Authority Limited in 1994). Historically the Authority's principal traffic had been coal, with some 23 million tonnes shipped through the Port in one peak year. However, radical changes in the mining industry, the decline in the coalfields in the Region and the changes in the purchasing policies of the power generators has now meant a virtual cessation of trade in coal.
The years between the two World Wars were marked by a steady increase in passenger traffic from the River Tyne, particularly to Scandinavia. New traffic and new facilities have now been developed, the most notable being the Tyne Car Terminal. In addition, in recognition of the potential for container business, the Authority developed a new container berth and storage compounds in 1991. In 1994 the Authority handled 15,000 TEUs and by 1998 this had grown to 29,000.
Whereas Ro/Ro passenger and freight ferry services from the Tyne to Scandinavia have been operating since 1967 this business has been developed significantly in recent years with excellent port facilities being provided to encourage the growth in traffic.
With £23M of capital investment in the last five years the Authority is now seeking to consolidate that investment and improve returns.
---
Return to Area Map