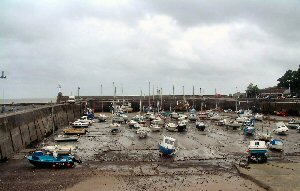 Image ©
Bob Jones
Saundersfoot
Latitude: 51° 42'N
Longitude: 04° 41'W
Country: Wales
Ownership: Saundersfoot Harbour Commissioners
Type: Trust
Usage: Leisure, Fishing
Address: Harbour Office, Saundersfoot, Dyfed, SA69 9HE
Telephone no: 01834 812094

About Saundersfoot
'Saundersfoot' is thought to be a combination of 'Saunders', the name of a locally important family and their farm and 'foot' a topographical feature.
In 1829 the Saundersfoot Railway and Harbour Company was authorised by Parliament and a tram-road was built to connect a number of collieries in the general area to a new harbour at Saundersfoot. By 1837 five jetties were in full use loading coal and iron ore and subsequently pig iron and firebricks from local works.
In 1930 the largest colliery in the locality, Bonvilles Court, closed and by August 1939 all the local pits had shut because of the difficulty of working local seams and the Saundersfoot railway from Wiseman's Bridge along the Railway Street (now The Strand), stopped operating. A few months later the track was lifted. The export of coal from Saundersfoot had ceased.
In July 1975 the Pembrokeshire Coast National Park Authority, the Local Planning Authority, designated a Conservation Area centred on the harbour, The Strand and Milford Terrace.
Boat trips are run from the harbour for fishing and viewing the marine wildlife and coastline. As can be seen from the photo above, the harbour dries out at low water springs.
---
Return to Area Map