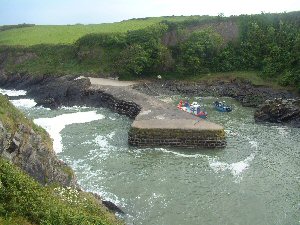 Image ©
Bob Jones
Stackpole Quay
Latitude: 51° 37'N
Longitude: 04° 53'W
Country: Wales
Ownership: The National Trust
Type: Private
Usage: Fishing
Telephone no: 01646 661359

About Stackpole Quay
Stackpole Quay is a small inlet protected by an historic masonry quay built by Earl Cawdor at the end of the 18th century to ship out limestone from his nearby quarry and to bring in luxury goods for Stackpole Court, the Earl's extensive estate. It is one of Pembrokeshire's smallest harbours. An earlier quay, dating from 1680, was used to land coal dust from nearby Saundersfoot.
The quay has recently undergone comprehensive refurbishment. It is used by fishing craft and also as a launch site for small trailed fishing boats and tenders. The use of the launch site by leisure craft is not encouraged.
There is a National Trust information centre, car park and tea rooms inland of the quay and visitors use the car park to access Barafundle Bay and the Pembrokeshire Coast Path.
---
Return to Area Map