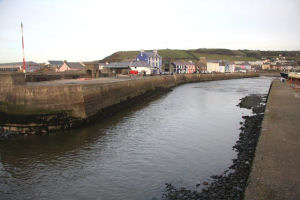 Image ©
Bob Jones
Aberaeron
Latitude: 52° 14'N
Longitude: 04° 15'W
Country: Wales
Ownership: Ceredigion County Council
Type: Municipal
Usage: Leisure
Contact name: Lt. Cdr. Norrington Davies, Harbour Master
Address: 2 Plas-Yr-Afon, Trefechan, Aberystwyth, SY23 1DD
Telephone no: 01970 627936
Website: www.cardiganbaysac.org.uk...harb.shtml

About Aberaeron
The idea of establishing a port at the Aeron's mouth was been the brainchild of a local cleric - the Reverend Alban Jones-Gwynne - in the nineteenth century. It was a thriving port in the days of commercial sailing, and sailing still plays a major part in the life of the town, its stonewalled harbour sheltering yachts from near and far for most of the year.
The maritime traditions of Aberaeron go back to the end of the 17th century when the coastal trade was effectively begun by the 'Lyon' and 'Hopewell' carrying charges of corn, salt and coal. The spread of trade to Irish Sea ports from Liverpool and Bristol started the process which led eventually to the creation of the new harbour and town of Aberaeron. By 1750 grain, herrings and lead-ore were being exported through the creek at Aberaeron, the lead-ore coming from the rich mines at Llanfair Clydogau near Lampeter. The herring fisheries were booming and catches in Cardigan Bay were phenomenal. Salt was needed to pack the fish for export to Catholic countries.
After 1807 and the passing of the famous Harbour Act, a new phase in the history of Aberaeron began. The River Aeron, especially in times of flood, had the tradition of overflowing through the area of the lowland now occupied by the harbour, and breeching the shingle bank, as a short-cut to the sea. The Harbour Act allowed for the construction of two permanent piers to maintain this opening in the shingle.
To build a new town requires a vast quantity of raw materials and increasingly these were transported by sea into the new harbour. Thus the shipbuilding industry greatly expanded after 1841. Many local farmers and traders owned shares in these vessels. Ships are traditionally divided up into sixty-four shares and it was not uncommon for people to own one or two shares in a portfolio of ships!
Eventually it was only by investing in steam shipping that regular runs of cargo could be maintained. The Aberaeron Steam Navigation Company was formed in 1863, the Aberaeron Steam Packet Company duly following in 1877.
The Drumlough was the last steamship to trade into Aberaeron and she left for the very last time in mid-August 1934. The era was ended. The railway closed in 1963.
---
Return to Area Map