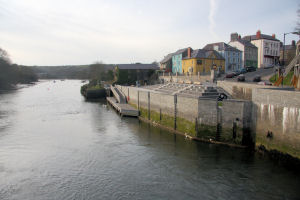 Image ©
Bob Jones
Cardigan
Latitude: 52° 05'N
Longitude: 04° 39'W
Country: Wales
About Cardigan
From the Middle Ages Cardigan became a major trading port and ship building area.
The Port of Cardigan became an important point of emigration to North America. Ships such as
The Active
and
The Albion
crossed the Atlantic to take Welsh people to a new life in New Brunswick, Canada. In the 1840s the brig
Triton
took many emigrants to New York and other US ports. The family of America's most famous architect Frank Lloyd Wright took the short journey from Llandysul to Cardigan in order to sail to the USA.
In 1816 there were over 300 sailing vessels registered at the port and more than 200 ships were built at its five shipyards. Following the arrival of the railway and road improvements, sea transport became uncompetitive. The rapid silting of the river finally sealed its decline as a port.
---
Return to Former Harbours Map