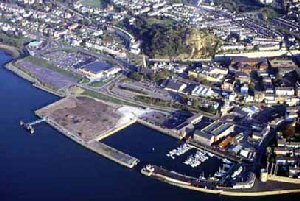 Image ©
Bob Jones
Caernarfon
Latitude: 53° 09'N
Longitude: 04° 14'W
Country: Wales
Ownership: Caernarfon Harbour Trust
Type: Trust
Usage: Leisure, Fishing, Commercial
Contact name: Mr Richard Jones, Harbour Master
Address: Harbour Office, Slate Quay, Caernarfon, Gwynedd, LL55 2PB
Telephone no: 01286 672118
E-mail: enquiries@caernarfonharbour.co.uk
Website: www.caernarfonharbour.co.uk/

About Caernarfon
There has been a port at Caernarfon since ancient times. Vessels tied up alongside the famous castle, on the River Seiont, or anchored in the Menai Straits and discharged into lighters.
With the growth of the slate industry in the Nantlle and Dinorwic areas the port grew as more and more slate was exported. The Harbour Trust was formed in 1793. At first all ships were registered in Beaumaris but Caernarfon became a port of registry in 1841. The ports of Nefyn, Porthdinllaen, Pwllheli (after 1851) and Porthmadog were sub ports or "creeks" of Caernarfon but Portdinorwic (yFelinheli) fell within the jurisdiction of the Harbour Trust and was considered as part of the port of Caernarfon.
In the 1860s the Victoria Dock was built but the railway had arrived by then and although slate was exported well into the 20th century, the port had already passed its zenith.
Over 200 ships were built at Caernarfon between 1758 and 1898 (Lewis Lloyd). The early vessels were small sloops then snows and brigs. From the 1830s the traditional coasting schooner developed and 53were built. The schooners and the smaller smacks, were the workhorses of the coastal trade. Loading slate outwards and carrying anything as return cargoes.
Caernarfon Harbour Trust is the authority responsible for the control of navigation and the provision and maintenance of navigational aids in the area from Britannia Bridge to Caernarfon Bay. It is also the competent Harbour Authority responsible for the provision of pilotage throughout the Menai Strait.
Victoria Dock was re-opened in the Spring of 1997 and provides 46 pontoon berths with electricity and fresh water and a visitors' pontoon with public access.
Landerne Pier was completed in June 1996, extending 37m into the Menai Strait. It is suitable for use by both pleasure and commercial vessels (up to 75 metres in length). It consists of a landing stage with a frontage of 12.5 metres and a dolphin each side for taking larger vessels, giving an overall frontage of 40 metres. It is an ideal place for tying up whilst waiting for the tide to access the marina facility at Victoria Dock, and also for obtaining stores from the nearby supermarkets and shops.
Slate Quay, where the Trust has its headquarters, is now used only by leisure craft.
---
Return to Area Map