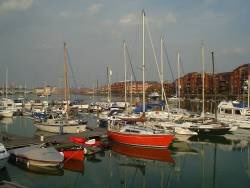 Preston
Latitude: 53° 45'N
Longitude: 02° 42'W
Country: England
Ownership: Preston Marina Ltd
Type: Private
Usage: Leisure
Contact name: Mr Chris Miller
Address: Preston Marina, Navigation Way, Riversway Docklands, Preston, PR2 2YP
Telephone no: 01772 733595
E-mail: info@prestonmarina.co.uk
Website: www.prestonmarina.co.uk/

About Preston
Although never a major port, Preston pioneered roll on roll off ferry transport. Albert Edward Dock opened in 1892 - at that time it was the largest single dock in the country. In 1948 the dock was the first to introduce roll on roll off traffic. By the 1960s the port held the record for the handling the largest amount of container and ferry traffic. Traffic reached a peak in 1968, when 500 dockers were employed and 1,437,000 tons of unit load trade passed through the port (16% of the UK total).
Cotton and wood pulp were the most important cargoes landed here. As the size of ships increased, fewer could use the dock. At the same time, the import of traditional cargoes decreased, and the cost of dredging silt from the channel increased. The early post-war advantage of being the pioneer in roll on roll off operations was lost to competing ports which could offer faster turn round time. In the 90 year history of the port, it only made a profit in 17 years. In 1979 the decision was made to redevelop the site.
The docks are now home to pleasure craft, and the surrounding waterside areas house a retail park, multiplex cinema, housing, offices and light industrial units.
Text: Graham Dean
---
Return to Area Map