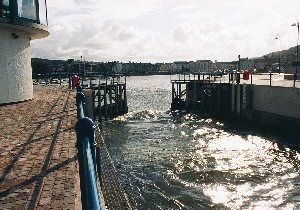 Whitehaven
Latitude: 54° 33'N
Longitude: 03° 35'W
Country: England
Ownership: Whitehaven Harbour Commissioners
Type: Trust
Usage: Leisure, Fishing
Contact name: Celia MacKenzie, Chief Executive
Address: 27 Lowther Street, Whitehaven, CA28 7DN
Telephone no: 01946 590515
E-mail: info@whitehavenhc.org.uk
Website: www.whitehavenhc.org.uk

About Whitehaven
It may seem surprising today, but in the mid 18th century Whitehaven was a larger port than Liverpool, ranking only after London and Bristol. The harbour dates from 1634 with the building of the first pier. It expanded rapidly during the next 200 years - until 1876 when the Queen's dock was opened. Whitehaven's prosperity was based on shipbuilding, but more importantly, the export of coal and the import of tobacco from America, with rum and sugar from the West Indies. There is an early connection with the slave trade and people settling in America.
Many families sailed to a new life from this harbour with their last view of England being Whitehaven. Today, a quiet stroll around the pleasant and extensive harbour area provides evidence of Whitehaven's important role in past commerce and trade (the Cunard Shipping Line started here).
Whilst the Commissioners are still ultimately responsible for the Harbour, and specifically the fishing industry, the day-to-day running of the harbour lies with
Whitehaven Marina Ltd
(Marina Manager:
Simone Morgan
01946 692435).
The fishing industry is still an important source of revenue. The fleet of some two hundred vessels continues to expand, especially in the over 20-meter LOA category; this coupled with a noticeable increase in visiting fishing vessels from other Irish Sea-based ports landing their catches and servicing gives comfort to the commissioners for the ongoing success of the investment.
---
Return to Area Map