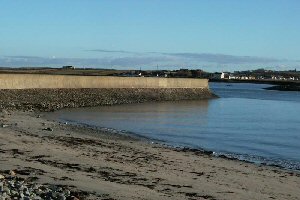 Image ©
Bob Jones
Killough
Latitude: 54° 14'N
Longitude: 05° 37'W
Country: N. Ireland
Ownership: Down District Council
Type: Municipal
Usage: Leisure, Fishing
Telephone no: 02844 610815

About Killough
Killough Harbour is located on the south-east coast of County Down in Northern Ireland. It is a small harbour with tidal mud-flats and shingle banks. Killough Harbour was constructed under the auspices of Judge Michael Ward, landlord of Castle Ward. His agent, Francis Lascelles, oversaw the construction of the harbour and the development of the salt-works in the village and by the time of his death in 1743 Killough was one of the busiest ports in Ulster.
In the early part of the 19th century a considerable coasting trade existed with the principal ports in the Irish Channel. The chief exports at that time were corn and live cattle, and the principal imports were coal and salt. Between 12 and 20 boats were employed in the fishing industry, catching mainly haddock and whiting. The manufacture of salt was also carried on upon a small scale.
It was reported in 1837 that
"the harbour afforded safe shelter for coasting-vessels and for merchant-ships of 150 tons' burthen; there is a good roadstead in off-shore winds for vessels navigating the channel, and it is the rendezvous of a considerable portion of the numerous fishing-vessels that frequent this part of the coast."
Today only a few local fishing craft use the harbour.
---
Return to Area Map