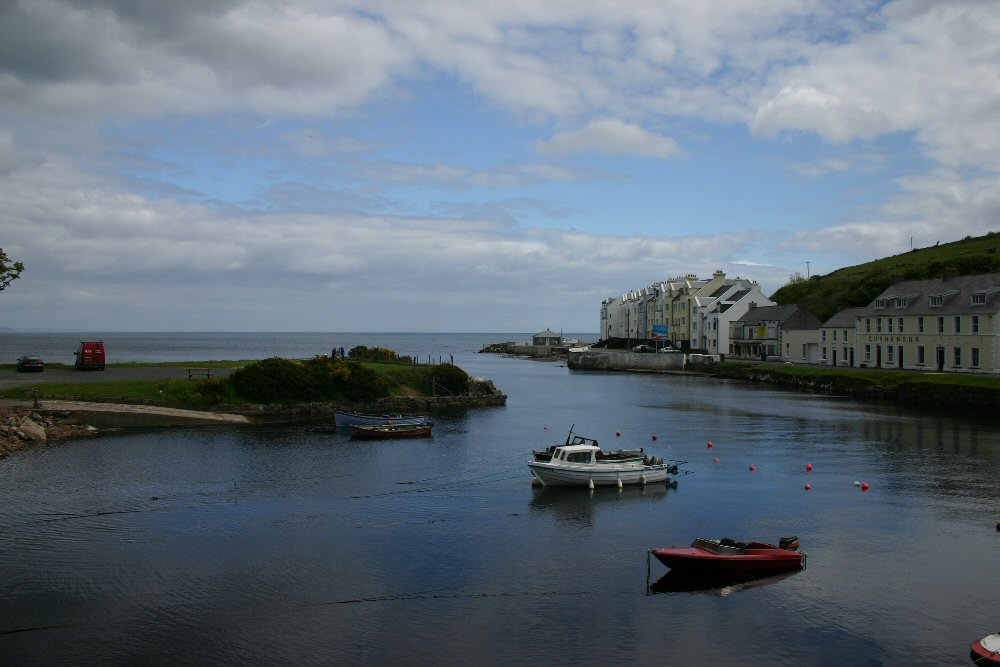 Image ©
Bob Jones
Cushendun
Latitude: 55° 07'N
Longitude: 06° 02'W
Country: N. Ireland
Ownership: The National Trust
Type: Private
Usage: Leisure, Fishing

About Cushendun
Cushendun (foot of the brown river) is the nearest harbour to Scotland, some sixteen miles away. It offers a safe and sheltered anchorage at the mouth of the River Dun. It has been a landing place and ferry point between Ireland and Scotland since the Antrim coast was first inhabited. There was a constant passage of travellers from Cushendun to the opposite coast of Kintyre, who carried with them black cattle and pigs and returned with Highland ponies.
In 1830 plans were drawn up for a commercial port at Cushendun by a local businessman Nicholas Cromelin to serve the surrounding district and industrial centre of Ballymena. Nothing came of the scheme, but subsequently several factories were built beside the south quay, including a ropewalk (a long narrow shed for spinning rope) and starch works, to which later was added a steam-powered flax-mill - the only one in the glens.
Cushendun is an area of outstanding natural beauty preserved by the National Trust and part of it falls within a Conservation area.
---
Return to Area Map