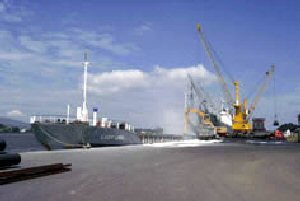 Image ©
Bob Jones
Londonderry
Latitude: 55° 02'N
Longitude: 07° 13'W
Country: N. Ireland
Ownership: Londonderry Port and Harbour Commissioners
Type: Trust
Usage: Commercial
Contact name: Mr Brian McGrath, Chief Executive
Address: Port Road, Lisahally, Londonderry, N Ireland BT47 6FL
Telephone no: 02871 860555
E-mail: brian@londonderry-port.co.uk
Website: www.londonderryport.com

About Londonderry
Earliest references to the Harbour can be found in the 7th century where Adomnan's Life of Colmcille, makes specific mention to how commonplace it was to sail from there to Britain by boat.
In 1167, Rory O'Connor, High King of Ireland, and his cavalcade are recorded as "having sailed around Ireland until they reached the harbour of Derry". It was however in the 16th and 17th centuries when the English focused their attention on the natural resources of the region that Derry came into prominence. In 1613, the city was granted a new charter and formally became the City of Londonderry.
As the city developed into a market and service centre for the surrounding district, the Port became commercially significant with ships, some of them locally owned, importing luxury and manufactured goods and exporting raw materials and agricultural goods.
Londonderry Port is the major port of the north west region of Ireland and is the fourth largest port in Northern Ireland. In 1993 the port was relocated away from the City Centre to Lisahally in an investment programme which to date has cost £30 million.
The Port today is principally an import facility although a number of products are also exported. The relocation to Lisahally therefore, has been particularly important for bulk commodities that can now be sourced directly from deep-sea destinations and has enabled Port users to realise economies of scale and to source markets from further-a-field.
Londonderry Port handles a wide range of liquid bulk and dry bulk trades, but does not at present handle unit load trades. The port throughput figure in 1999 was 1,216,277 tonnes having grown from some 760,000 tonnes over 12 years.
---
Return to Area Map