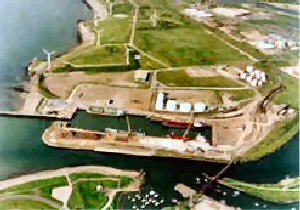 Workington
Latitude: 54° 39'N
Longitude: 03° 33'W
Country: England
Type: Municipal
Usage: Commercial
Contact name: Capt B Ashbridge, Harbour Master
Address: Port of Workington, Dock Office, Prince of Wales Dock, Workington, CA14 2JH
Telephone no: 01900 602301
E-mail: workington.port@cumbriacc.gov.uk
Website: www.portofworkington.co.uk

About Workington
The Port of Workington is the largest port in Cumbria and one of the main hubs in the North West. It serves the region's industry and agriculture, including most of the major manufacturing and processing businesses in the area.
Workington handles 600,000 tonnes of cargo/year and around 300 ship movements annually. The port has room for expansion and has been diversifying into new operations.
Workington has a good range of modern cargo handling facilities and equipment, supported by operational land with covered and open storage for a wide range of cargoes including liquid bulks, dry bulks, steel cargo, forest products, agricultural cargo and container freight.
There are also facilities for heavy lift, project and ro/ro traffic, the fishing industry, cruise vessels and leisure craft. Customers at Workington have the advantage of dealing with a single Port Authority which provides all the necessary port services in a single package at an all-inclusive rate.
The first recorded shipments of coal from Workington to Ireland were in 1604. At the beginning of the 19th century, the Earl of Lonsdale and the Lord of the Manor of Workington both spent considerable sums on improving the harbour. An Act of 1840 regulated and preserved the harbour. Further Acts were passed over the years transferring responsibility to Lord Lonsdale and then to various bodies, and also giving powers for construction of a new dock which was later to be enlarged and become the Prince of Wales Dock. British Steel operated the port mainly for its own business. The steelmaker exported 80,000 tonnes of steel products worldwide and imported one million tonnes of iron ore.
The Workington Harbour Act 1974 transferred ownership from the British Steel Corporation to Cumbria County Council. When the council took over, imports of iron ore ceased. The port was in a very precarious position with a run down infrastructure, chronic labour problems, and an annual deficit of between £150,000 and £200,000.
In 1982 £3.5million was spent on a new automated facility to export industrial coal in bulk to Ireland and Spain. This facility never reached more than half its full potential of one million tonnes per year. It was eventually sold for scrap, for £85,000, when mining in Cumbria stopped in 1992.
Commercial traffic at the port was revived by a local chemical company, Albright and Wilson, which decided in 1992 to import 320,000 tonnes of phosphoric acid. This had previously been the main business at Whitehaven. The port has since made a profit of £500,000 on a turnover of £2.2million every year for the last four years.
The port now has a totally integrated workforce with no demarcations and a flexible working agreement that allows the port to work 24 hours a day, seven days a week without charging any overtime premiums.
As a result the port has secured business with British Gypsum of 100,000 tonnes a year. Their vessels are being turned round in record time. British Steel is now exporting around 80,000 tonnes of rail track worldwide annually. A new rail shunting operation is used, whereby the portís locomotives go to the British Steel site to collect product and deliver it to cranes at the dockside.
The port has a comprehensive internal railway system. All the berths and adjacent land are served by a connection to the West Coast line. For some years the rail infrastructure was only lightly used, mainly by British Steel. However the whole network, including two locomotives, was retained and maintained on a very low budget. English Welsh and Scottish Railways approached the port in 1996 to use its rail network as a railhead. Trains now come from Tilbury and the Medway carrying pulp, paper and calcium carbonate along with raw timber from Scotland and the north of England.
In December 1996 the first mainline goods train for 10 years entered the port and, up to March 2000, it has handled 219,567 tonnes.
In September 1998 the port established a new container facility, handling containers brought in by rail from Teesport.
All this rail traffic replaces road haulage, mainly along the A66. It is estimated that some 27,774 lorry movements have been removed from the already heavily congested Cumbrian roads.
A major local manufacturer is now considering moving much of its current road hauled business onto rail at Workington. Plans are well advanced to move 400,000 tons of coal off the road and onto rail, resulting in a further reduction of lorry movements between West Cumbria and Carlisle.
Workington was awarded a freight facilities grant this year to improve its rail infrastructure. British Gypsum imports desulphurised gypsum, and at present the product is transported in road wagons to their factory at Kirby Thorpe. Improvements to the rail infrastructure will mean that the desulphurised gypsum can be unloaded at the Prince of Wales Dock and taken straight into their factory by rail. This will relieve congestion on the roads and take traffic away from local villages.
---
Return to Area Map