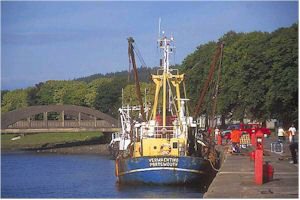 Image ©
Bob Jones
Kirkcudbright
Latitude: 54° 50'N
Longitude: 04° 02'W
Country: Scotland
Ownership: Dumfries and Galloway Council
Type: Municipal
Usage: Leisure, Fishing
Contact name: Peter Roberts, Harbour Master
Address: Kirkcudbright Harbour Office, Kirkcudbright, Dumfries & Galloway DG6 4HY
Telephone no: 01556 502327 or 07709 479663
Website: www.dumgal.gov.uk/index.a...kcudbright

About Kirkcudbright
The first record of shipping belonging to Kirkcudbright dates to 1236 when one Erkin of Kirkcudbright was given official permission to sail to Ireland to trade for corn. In the 14th - 16th centuries records indicate trade with Ireland, France & Spain, with wool, woolen cloth and hides exported, and wine and iron imported.
As the nearest port in Scotland for merchants from France and Spain the port prospered to rank 6th in Scotland in terms of its customs value. In 1455 the town became a Royal Burgh, with rights of self government, and, most important of all, the right to conduct international trade through its port. The records of the burgh survive from 1576, and the very first record concerns a dispute about a cargo of timber to Brittany. In medieval times the harbour was one of the most important Scottish ports. John Paul Jones, the founder of the American Navy, landed in Kirkcudbright bay with the intention of kidnapping the Earl of Selkirk.
Kirkcudbright now has a thriving fishing harbour, constructed in 1911, with boats tying up right in the centre of the town. It's a working harbour, with its own fish packing business. When the fleet is in, the boats moor two deep at the harbour quay (and the fishermen drink at the Steam Packet Hotel). It is one of the busiest fishing ports for landings of king and queen scallops in the United Kingdom.
Pleasure boats don't moor at the quay, but tie up discreetly at a floating pontoon downstream of the sailing club. At low tide the small boats, surrounded by acres of mud, nestle at the base of huge black pilings.
---
Return to Area Map