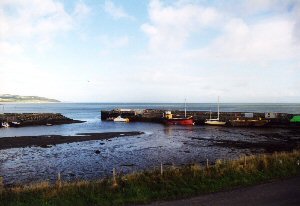 Image ©
Bob Jones
Drummore
Latitude: 54° 40'N
Longitude: 04° 52'W
Country: Scotland
Ownership: Drummore Harbour Trust Ltd
Type: Private
Usage: Leisure, Fishing

About Drummore
Drummore harbour was constructed in the early part of the 19th Century to serve a lime manufacturing industry. An additional pier was built at the beginning of the last century by A. McDowall, corn merchant and tenant of High Curghie. The harbour was taken over by the then Air Ministry in the late 1930s and remained in Ministry of Defence Control until 2004 when it was sold to Drummore Harbour Trust, a private trust formed to take over the harbour. It is used by local skippers for sea angling.
The name Drummore comes from the Gaelic Druim-mor, "the big ridge", although in reality the highest point is only between 250 and 300 feet. A castle once stood where the farm of Low Drummore now stands, the home of the Adairs of Kinhilt, the lands having been granted to them in 1602 by King James VI. High Drummore was the place where the Adairs meted out justice at the ancient court hill or Mote, and a gold torque was found there, which is now in the National Museum in Edinburgh.
Although past its former glories, the harbour is still used by locals and visitors, as well as the Coast Guard and Range Boat.
---
Return to Area Map