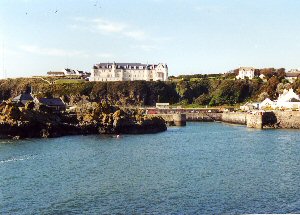 Image ©
Undiscovered Scotland
Portpatrick
Latitude: 54° 50'N
Longitude: 05° 06'W
Country: Scotland
Type: Private
Usage: Leisure, Fishing
Address: 01983 872828

About Portpatrick
In the 17th Century a royal warrant was granted to the laird of Dunskey enabling him to restrict voyages between Galloway and Ards to the ports of Portpatrick and Donaghadee and during this time Irish cattle, mail, passengers and soldiers were ferried back and forth across the North Channel. The ferry service was at first a rude affair where boats waited until they had sufficient loads of mail and passengers before they put to sea and then, in the winter months, waited again for the weather to improve. Animals were unloaded by pushing them in the sea to swim ashore; people boarded from the beach.
The Post Office built the first pier on the south side of the bay in 1774, under the guidance of John Smeaton, to facilitate the carriage of mail. The work was completed in 1778 but a northern pier, built round a rocky isthmus locally known as M'Cooks Craig, was quickly destroyed by the sea. A lighthouse was built on the southern pier in 1779, and by 1790 four purpose built mail packets were operating out of the Port. One of them the Downshire was wrecked in a storm in 1810.
Portpatrick grew in importance as a ferry port, and in 1820 the government commissioned Sir John Rennie to build a substantial new harbour. Two piers, north and south, were to be built with a lighthouse at the end of each and a north and south harbour were to be constructed.
Rennie's south pier and lighthouse were completed by 1836. But in 1839 a storm breached the pier. It was repaired, but because of escalating costs work on the unfinished north pier and lighthouse was stopped and the north pier was never completed. Village and harbour boomed even without the north pier but it was not to last for long. As sail gave way to steam Portpatrick declinedIn 1862 the Stranraer to Larne ferry route started operation and the Port was finished when in 1868 the ferry service was officially transferred from Portpatrick to Stranraer.
While Portpatrick's once massive harbour breakwaters lie in ruin and the 'Port', as Portpatrick is affectionately known, is now only a safe haven to a few inshore fishermen, pleasure craft, visiting trawlers and yachts.
---
Return to Area Map